Shady Records
Shady Records is the recording label started by Eminem in 1999. Primarily begun in order to sign D12, it has since grown into, along with Aftermath, the rap industry leaders it is today. The label went quiet when Eminem fell off the radar soon after the Encore album. As of 2012, the label is back with a new momentum, a new roster and a new drive to reclaim the throne as the juggernauts of this industry. Here's a run down of the gang, excluding Eminem:
50 Cent

Curtis Jackson aka 50 Cent, the original Shady Records signing, a split deal with Dr Dre's Aftermath at the time. One of the biggest names in Hip Hop, 50 Cent is a multi-platinum rapper whose debut album 'Get Rich or Die Tryin' has sold 8 million albums in the US alone. Born in Queens, New York, 50 sadly grew up without a father, before selling drugs from the age of 12. Famously, he was shot 9 times before being dropped by Columbia, his record label at the time, and promptly scooped up by Eminem and Dre.
From here there have been a series of albums, movies and products. For more information, see his Wikipedia page.
Bad Meets Evil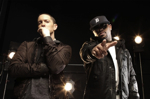 Royce da 5'9, a long time friend and collaborator of Shady has previously had issues with D12, miscommunication over the years had affairs flying dangerously close to an all out beef with Eminem. Time healed all wounds in this case and 2011 surprised us with the reignition of the sick and twisted duo of Bad Meets Evil. The comeback album titled 'Hell: The Sequel' was released on 14th June 2011, hitting the number 1 spot on the Billboard 200 charts with sales of 171,000.
D12

A group of friends from Detroit, Michigan, the Dirty Dozen were originally formed in 1996 - with the final line up consisting of Eminem, Proof, Kuniva, Swift, Bizarre and Kon Artis. Proof sadly passed away in 2006, after being shot during a confrontation at a Detroit nightclub. The group have released two studio albums on Shady: 'Devils Night' and 'D12 World', both of which topped charts internationally. See our
D12 section
for more information.
Yelawolf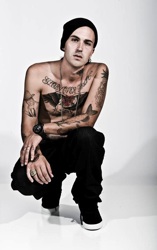 The sharp spitting rapper, born in Atlanta in 1979, released his debut album 'Creek Water' in 2005. Yelawolf joined Shady in 2011, soon after releasing his studio debut 'Radioactive', featuring Eminem, Gangsta Boo and Kid Rock among others. Most recently, the rapper collaborated with the British artist Ed Sheeran, recording an EP in a mere 10 hours, titled 'The Slumdon Bridge EP' and released on Valentines Day 2012.
Slaughterhouse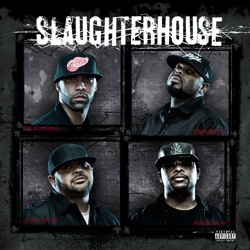 The Hip Hop supergroup consists of: Crooked I, Joe Budden, Joell Ortiz and Royce da 5'9 and signed to Shady Records early 2011, coming together after the members appeared on the track 'Slaughterhouse' from Joe Budden's album 'Halfway House'. Thus far the group have released one album, a self titled effort released on August 11th 2009. The second album, to be released on May 15th, is to be released on Shady Records...