D12 - The Dirty Dozen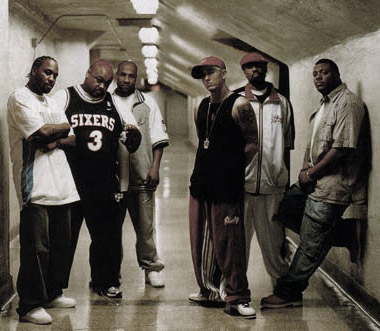 D12 are:
Kuniva
aka Rondell Beene
Bizarre
aka Peter S. Bizarre
Swift
aka Swify Mcveigh
Eminem
aka Slim Shady
Proof
aka Oil Can Harry
Kon Artis
aka Mr. Porter
Basic Info:The name is originally from a western film, D12 has the concept that the Dirty Dozen are actually six members but with two alias, personalities split, making 12. Grew up as friend in Detroit and made a pact in which the first to get signed would come back and get the group, that person being Eminem who stuck to his word and went back to get his friends we all know as D12 today ...
More Info:D12 are signed to Eminems record label 'Shady Records' and have officially released two albums, though having appeared on Both the Eminem Show with 'When the music stops' and The Marshall Mathers LP on the track entitled 'Under the Influence'. Sadly Bugz aka Kornail Pitts, a D12 member was killed on May 21, 1999 after getting involved in a fight taking place at Detroit's Belle Isle Park. A friend noticed Bugz getting the better of him and took action, by shooting Bugz three times in the neck and chest, then horrendously driving over him as he drove away in his truck. It was a few days later after this incident when Eminem requested to take his place in the group.